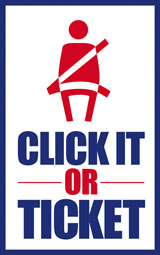 In time for the upcoming Memorial Day holiday, each state has been airing their series of commercials in support of the national "Click It or Ticket" campaign. Similar in tone to past commercials speaking on behalf of drunk driving, we ask the question: Do these commercials have the right balance in tone, delivering their serious message amidst comedy?
While any quick search on YouTube for "Click It Or Ticket" will yield several examples from different states, below we've embedded the one execution we're familiar with here in Arizona (though we think it's playing in other states as well).
Now, don't get us wrong, this is a very serious topic. You could sit in a room of very well respected agency folk and get varying opinions on tonality, but for what it's worth, we here at The InStar Group find the tone for these commercials to be off. Comedy has proven effective time and again in the world of advertising, especially with the visual medium of TV. Just look at any of the high profile spots during the Super Bowl. Add one part cute dog, two parts cute baby and an attractive female and voilà, a great commercial, regardless of product.
While comedy is great, these PSA commercials for seat belt safety aren't necessarily the same as selling beer or cars. They are selling safety consciousness and as a result, selling a lease on life. If the intended audience are those motorists who do not typically put there seat belt on upon first entering their car, is delivering this important message in a cloudy mix of silly, borderline slapstick comedy the answer?
For our money, the idea of being "scared straight" is more in line for the proper tone. You have to go after the fright of one's mortality. The "scare" of a hundred dollar ticket is not going to persuade your target audience.
The below "Safe Happens" commercial speaking to Volkswagen's safety is much more effective. It's unexpected, jarring and makes you think…not laugh.
What do you all think? Do these PSA's strike the right tone?